The documentary is now available for purchase on DVD.  It's more than 2 hours long, and comes in a full-color decorative CD Jacket. 

Click here

to purchase with a paypal account.
UPDATED--Check out the "Video Clips" page, where we'll be highlighting some great Indians clips past and present.
INDIANS CHARGE OUT THE GATE
Defeat Southeastern by 40 Points.
A New era began last week when Josh Arey, longtime JV coach of the Indians, led the Tribe to its first victory of the 2010-2011 season.
Andy Countryman scored 29 points, followed by Blake Justice with 18 in the season opener. The Indians play Fairfield on Friday, December 10th for their first league game.
In-depth Player profiles are on the way, as we're going to be updating the site all season.
Career points are as follows:
1. Blake Justice (2011) 1605*
2. Bobby Huffman (1956) 1484
3. Marc Kremin (1987) 1296
4. Michael Cheesbro (2003) 1288
5. Andrew Seaman (2010) 1332
*and counting
20010-2011 Boys SHL Standings
By Overall Record:
By League Ranking:
View the Trailer
"Small Town" Video
We are the Indians is a documentary spanning more than 50 years of Peebles High School basketball history. For decades, Peebles created a basketball dynasty that was feared throughout Ohio. This film relives the triumphs, near-misses, and community spirit that made the Indians dominant.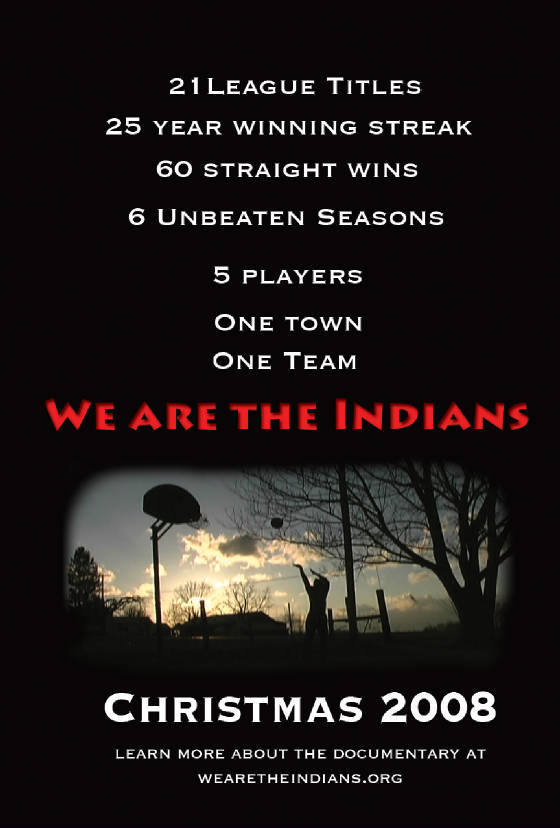 Remember, if you'd like me to email you when we place an update, join Indian Nation by emailing wearetheindians@yahoo.com.